Enamel Experiment
SEP 2014 - MAR 2015

#product design #craft #material #challenge
#recycle #old craps #transform #new issue

output 01 _ hanging lamp*5
output 02 _ vases *4
"To design is much more than simply to assemble,
to order, or even to edit: it is to add value and meaning,
to illuminate, to simplify, to clarify, to modify, to dignify,
to dramatize, to persuade, and perhaps even to amuse.

To design is to transform prose into poetry.

" – Paul Rand (art director,graphic designer.1914-1996)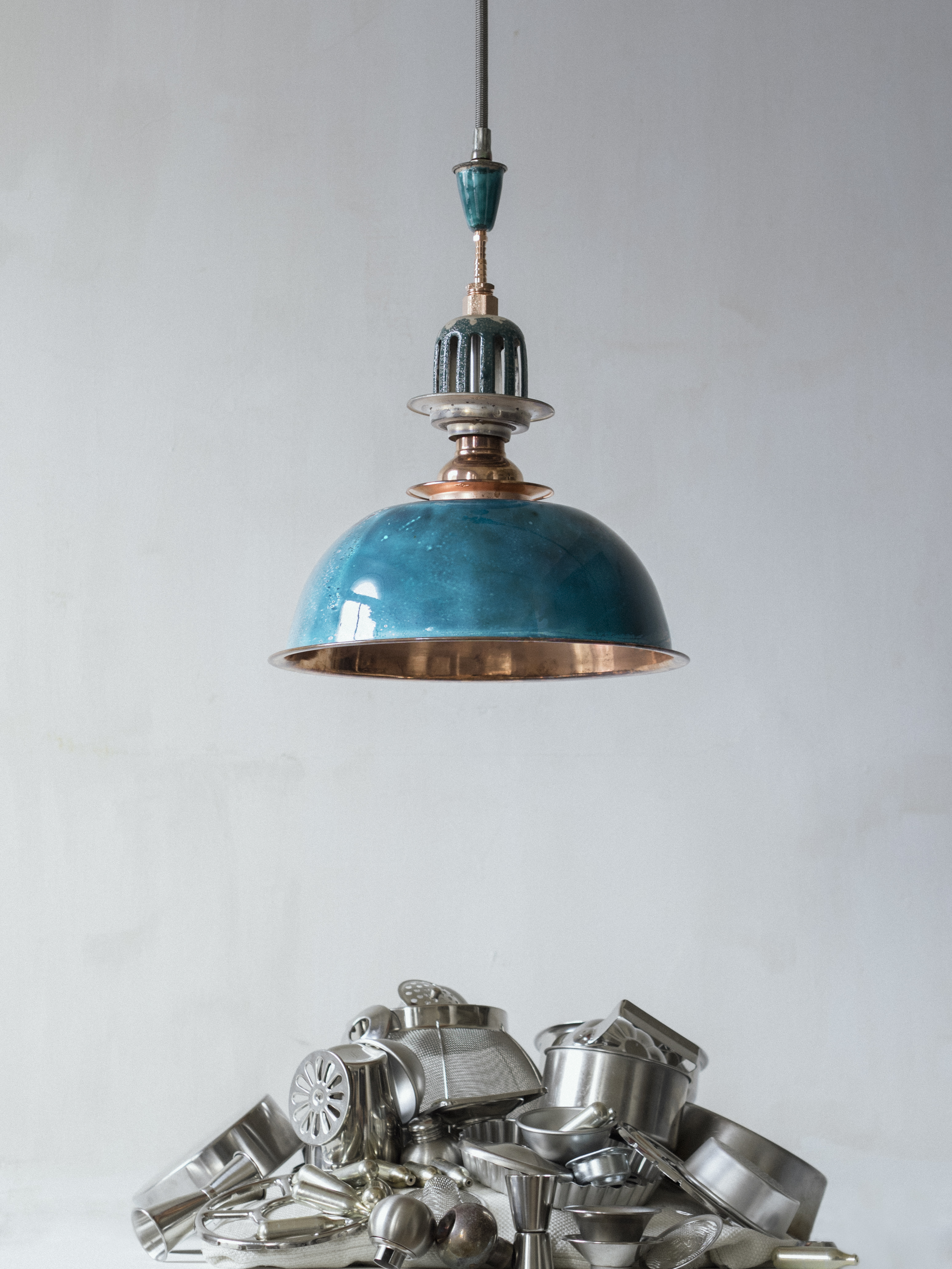 The core value of Enamel Experiment project : Reborn of the broken / abandon metalwares.
Testing sample : big sacle of enamel apply to the bad quality metal.
Enamel Experiment is a conceptual project of transforming abandoned metalwares into living products
via reform, reassemble and refinnishing surface with enamel coating.
The most challenging part of this project is enamel coating. How to coating enamel on these bad quality metalwares?
As knowing, the enamel glaze can only apply on specific kinds of metal, like pure gold, silver, copper...etc because of the chemical reaction.
It must be those very high quality metal kinds and clean surface, or enamel can not attach to surface successfully.
So, this is the most big challenge of this project. Robin Mathew once said "design is where science and art break even."
which describing the whole spirit of this project so well in a sentence.

Abandoned metalwares collecing resource.
The 3 steps : Concept of making the best use of objects from ancient Asian wisdom.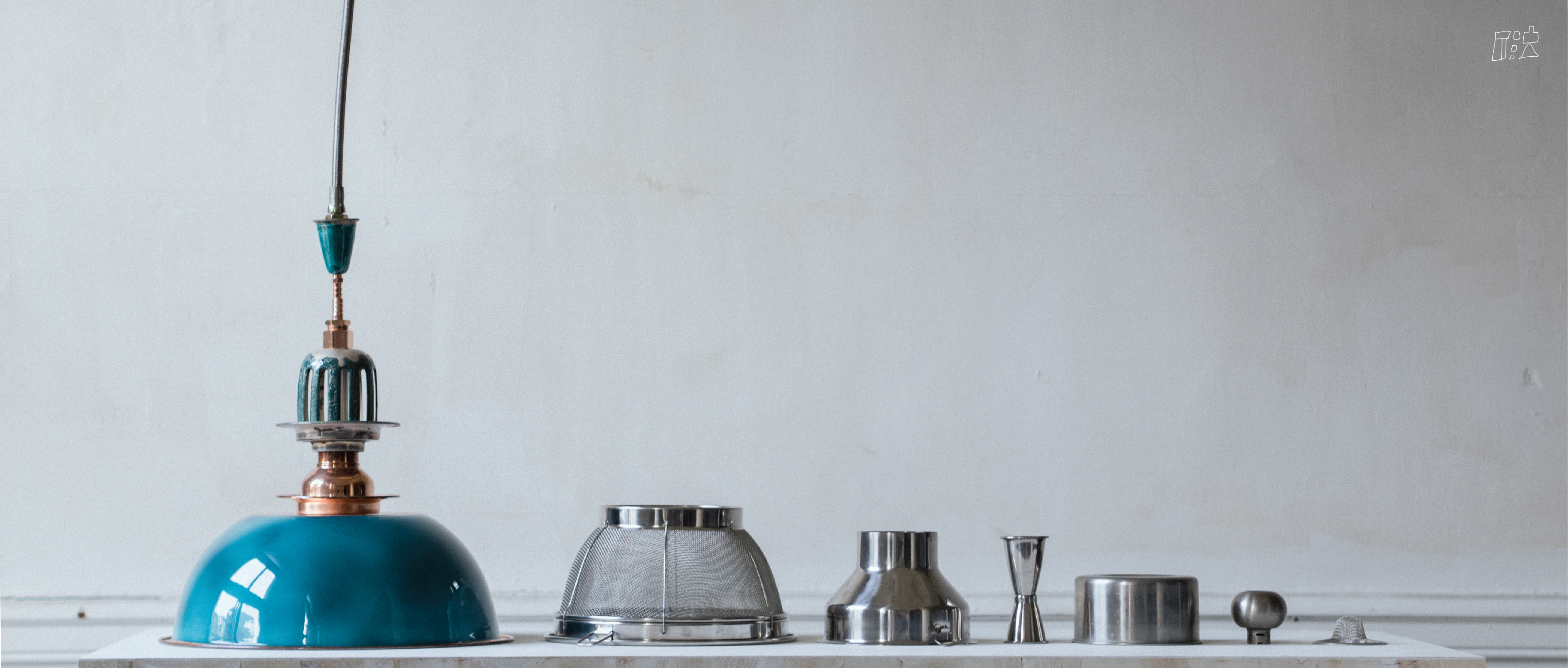 Besides the enamel coating, another main challenge is the combination of metal craps. Good combination makes brand new form, but also keep the original characters of each object itselves. So how to balance the aesthetics between single object and the overall form at the same time is important. For this purpose,over 50 types of combination has been tested, and the result comes to these 5 as a final versions.
Although the combinaiton is decided, but the reality is "HOW"?
Each new form is combined by over 8 different objects, how to connect each others in a smart way is a big problem to face, it also needs the rich metal production knowledges and flexible mind to think out of frame to solve problems. Of course the electronic routes and components of lighting needs to be considered as well.

The final form of these 5 lamps.
Surprisingly, even though each single component is came out by mass production in industrial way, and of course their original function is nothing about decoration, but the final forms are more alike the Decorativeism, like some kind of Istanbul art style buildings. Take No.3 TURQUOISE for example, the components from top to down are : onze cup / parts of towel rail / tea filter / door handle / sink drainer / rooftop drainer / pot / steam basket ... and so on, each of them are functional purpose just exactly as the famous saying : "Form is underpinned by function."
The process sketches, thinking of the solution
of combinations. Also the technical drawing for communication to the professional metalware makers. Designers might be full of creative ideas, but when comes to the production,they still need trustable good partners, who is rich in making experience.

This is the final result of coating of No.2 NEMO.
After the countless times of failure, the brilliant solution finally comes out and makes enamle powder enable to attach to different kinds of metalwares successfully. Over 30 minutes with temperature above 500 degree in the electric kiln, the coating surface naturally form these small bubble due to the air of water-based adhesive from the first layer. It takes couple of times to figure out the proper temperature and baking time for each different color enamel powder, since each one of them has its own melting degree.
Of course things are not always go easy, when there is another unpredictable variable problem hiding, which is the metal parts combination. Because the combining components are collected from recycle plants, the metal kinds and qualities are not the same. Some of them are unable to take such a high temperature like over 500 degree, because their melting degree might be much more lower than enamel powder.
So when this situation happens, it will turn out like a mess and have no choice but to start it all over again, since each components are the only one, and also irreversible.

Lamp No.5 19th
Size : 250 * 250 * 280 (mm)
Enamel color code : #122 bamboogreen
Baking temperature : 730 ℃
Baking time : 35 min
Electroplating : #28 Ni, Nickel
Metalware components :
Pot lid handle /
ball bearing /
kitchen sink drainer /
balanced scale for chinese medical herb /
pot /





[color testing]
The color of enamel powder has a big difference between baked
and unbaked. These door handle lids are the most suitable as a
color sample, because of the slightly curve surface able to see
the finishing luster texture of enamel coating.
Each color code has been placed on two different electroplating
lids, one is nickel plating and the other is copper plating, the
different color of these plating also matter the final finnishing color.

[metalwares surface cleaning]
Those abandoned metalwares always have multiple layers on their
surface,which will make the metal baking situation more complicated.
In order to get rid of the unpredictable factors of baking procedure,
these multiple layers must to be clean, to make the body skin more
pure.The enamel coating succeed more higher after fixing all the
metalware surfaces.

[electronic Kiln]
The kinds of the kiln also need to be considered. For the clean and
gentle-rising temperature environment needs, the controlable
temperature electronic kiln is the most proper one for enamel.
The heater of the electronic kiln also very considerable comes from
each side, makes the baking environment same heat at the same time.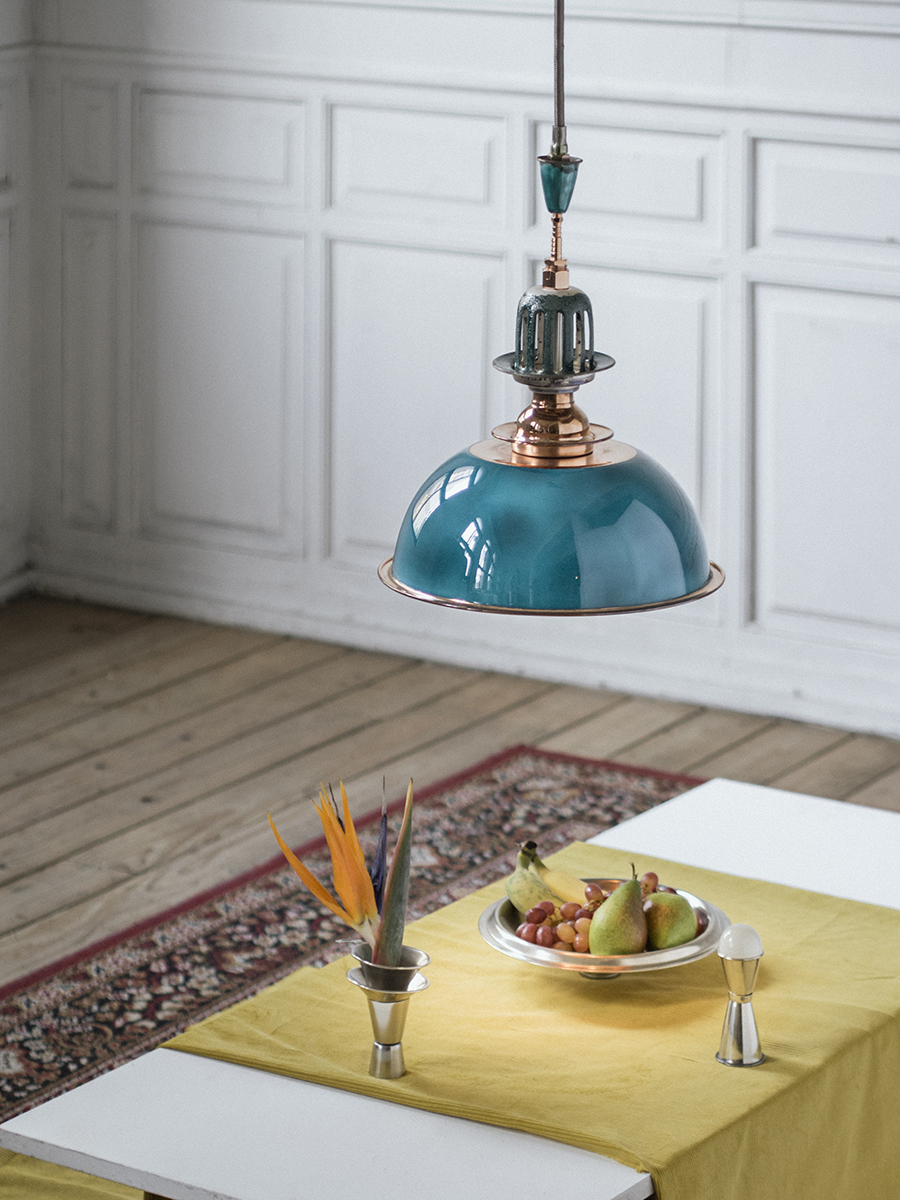 During the 2015 YODEX (Taiwanese Young Designers)exhibition, this project luckily win the golden prize of 2015 young pin design award and the benchmark award of ASUS venture challenge,these bring to lots of media reports and magazine interview as well.
This project has been reported on TAIWAN CRAFT magazine, BEIJING ART & DESIGN magazine, MAKK museum press and KOLNER designer preis. Same year, ENAMEL EXPERIMENT also honorly had a chance to join a group exhibition with KISD in MAKK museum for over one month.


Some reporter asked why ENAMEL EXPERIMENT comes out ceiling lamps but not other kinds of product while interviewing. It's true that not only ceiling lamps, but also everything else could be the body of ENAMEL EXPERIMENT, but when says to the delicated products, lamps are definitly the one which can properly suit the most. Within the sensorium is a transcriber, or a synthesizing faculty, using synonymous intangibles where association and experience fail: as the capacity of certain sounds to induce colour images, certain arabesque forms may find aesthetic truth.
Within the sensorium is a transcriber, or a synthesizing faculty, using synonymous intangibles where association and experience fail: as the capacity of certain sounds to induce colour images, certain arabesque forms may find aesthetic truth.
Within the sensorium is a transcriber, or a synthesizing faculty, using synonymous intangibles where association and experience fail: as the capacity of certain sounds to induce colour images, certain arabesque forms may find aesthetic truth.
Within the sensorium is a transcriber, or a synthesizing faculty, using synonymous intangibles where

Lamp No.4 BUSTLE

Size : 200 * 200 * 310 (mm)
Enamel color code :
#110 white
#121 darkgreen
Baking temperature : 800 ℃
Baking time : 45 min
Electroplating : #28 Cu, Copper
Metalware components :
/ onze cup
/ incense burner
/ religion fruit plate
/ steam plate
/ pot lid
/ feeding bowl






Besides the ceiling lamps, there are vase edition of Enamel Experiment as well. Unlike the lamps series, the vase series are more easily to feel closer of the texture. When comes to design vase, it has a big related to the flower arrangement arts. Before designing the vase series,I use the experience of myself from flower arrangement class I used to take when I was a kid. Including the specific tools for flower arrangement art, the combination core is to use that kind of elements twisted into the ideas. Like, there is a tool called forg, it is formed with countless niddles, which is for fixing the the different scapes to a right angle and place. Taking this function, the felter with holes has the same function with frog, but twisted for the original use of it. Thats how i called the real reborn, not only the shape, but also the use.
The vase series come out 4 types in total. For different using and flower types, there are tall vase ,for both fresh flowers or dry ones; flower plate, for more art kind of demonstration; small vase, only for thin flower scape. These four types of vase can be domonstrate flowers in several ways. At the same time enaml is waterproof because of its glaze base, so for becomeing the vase, which need to contain water, can't be more suitable.

Enamel Experiment is a project combine recycle issue and material revolution, thinking of the all kinds of the objects produced by human, try to keep the unique character of each peieces to remind us how beautiful details are by the mass production which we ignored.
Latest edit-
13,November 2018
copy right | HSU AN HSU ® all right reserved